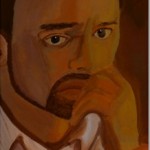 SPIRITUAL SEARCH
Friend, you may be on a search not unlike the search I started on some years ago. When I first heard "For God so loved the world, that he gave his only begotten Son, that whosoever believeth on him should not perish, but have eternal life." (John 3:16), and that God had a family, and that He welcomed people into it, I desired to have this eternal life and to belong to God's family. First, however, I needed to understand a few things.
All who wish to start this search must start looking in the right place. God has made the pathway for us and, to begin walking on it, we need a basic understanding of what God thinks about us and understand what He has done to bring about His will in saving men and women. To bring us to this understanding, God has given us His holy Word, the Bible. Holy Scripture wasn't made up by men but, rather, God gave them the message; "knowing this first, that no prophecy of scripture is of private interpretation. For no prophecy ever came by the will of man: but men spake from God, being moved by the Holy Spirit." (2 Peter 1:20-21), and we have that message to read today. God has promised to preserve His Word; "The words of Jehovah are pure words; As silver tried in a furnace on the earth, Purified seven times. Thou wilt keep them, O Jehovah, Thou wilt preserve them from this generation for ever." (Psalm 12:6-7). Jesus said; "Heaven and earth shall pass away, but my words shall not pass away." (Matthew 24:35).
So, as we begin our search, we start by reading God's holy Word, the Bible, and, in the New Testament, it is not long before we come across Jesus Christ. He is everywhere within its pages doing miracles, helping and teaching people. Who is this incredible figure? The Bible says that He is the Son of God (See Acts 9:20; Luke 1:35, 3:22), that He is Lord (See Acts 2:36, 16:31) and that He is " … the Judge of the living and the dead." (Acts 10:42). Jesus refers to Himself as " … the resurrection, and the life: …" (John 11:25). He addressed God as His Father (see Mark 14:36) and said; " … I am the way, and the truth, and the life: No one cometh unto the Father, but by me." (John 14:6).
As we read the Bible we begin to hear Jesus' words, His truth and His instructions for us. Jesus shows us what He has done. His love for us caused Him to groan, weep and mourn over our condition and our fate. His heart was broken over a lost humanity whom He saw as sheep without a shepherd (see Mark 6:34). His love for us was so intense that He did the only thing that could be done to make things right between us and God. He chose to take the penalty for sin, that we deserve, upon Himself, even though that meant a torturous death on the cross. Then He resurrected from the dead, proving He had conquered death. We can now come into the same victory. Because He conquered death, He can grant us life! The death and resurrection of Christ are the two greatest events in the history of the universe. To create the world, God merely had to speak it into existence (see Genesis 1). To save mankind, He had to die. 1
So we start by taking God's Word, the Bible, and reading it. As we do, we begin to hear the words of Jesus. He highlights what He is trying to say to us. Then He takes us to the cross and shows us what we have done to transgress God's laws, and what He has done to redeem us. Our hearts become filled with regret over our own actions and filled with gratitude for His unspeakable gift. There is also awareness that, to follow Jesus, we have to commit to abandon our old ways and let Him change every area of our lives that He desires to change. We then commit ourselves to Him and exercise faith. It is in this time of repentance and faith that conversion occurs. It occurs by faith. Faith is believing in God and accepting what He has said and done. However, it is more than just believing; it is actively trusting Jesus. It is saying:
Jesus I believe that You died as my substitute and rose from the dead and now I trust my soul to You. It is now Yours. I trust it to You. I trust You with my very life. I receive You into the very core of my being. I welcome You. I believe that You won't turn away any that come to You. I surrender every chamber of my heart, and every part of my life, to You.
At this point of faith, Jesus enters our life to be our Savior and Lord and all of our many sins are completely washed away!
The Bible says; "for, Whosoever shall call upon the name of the Lord shall be saved." (Romans 10:13). Once one comes to that place of faith, he cries out to the Lord in prayer, asking to be forgiven, saved and changed. It all begins with hearing Jesus' words and believing them, then letting Him take us to the cross, then responding in faith and repentance and calling on His name. Jesus said; "Verily, verily, I say unto you, He that heareth my word, and believeth him that sent me, hath eternal life, and cometh not into judgment, but hath passed out of death into life." (John 5:24).
Many people have started to search for God and, in the process, have become attracted to a church or a religion. Many have found, somewhere along the way, that that religion was not what they thought it would be, or that a religious leader was not whom they thought he was. Many, at this point, have become bitter and abandon the search altogether. This is tragic, especially when God has done so much to draw men and women to Himself and has made His way plain in the pages of the Bible. This is why it is crucial, at the earliest stage of the search, to recognize Jesus Christ as the source of true faith, not a pastor, a church or a religion, but Jesus. Others may fail you, but Jesus never will. Jesus promised "All that which the Father giveth me shall come unto me; and him that cometh to me I will in no wise cast out." (John 6:37). He is like an author and we are like a blank book. When we turn our life over to Him, He picks up His pen and begins to write a masterpiece work. He starts our faith, works on it, and then, one day, He finishes it. He gets all the glory. We fix our attention and devotion on Him. When you prayerfully read the Bible, intent on hearing Jesus' words, believing them and carrying them out, He will speak to you. Take the hand of Jesus and let Him lead. We read: "looking unto Jesus the author and perfecter of our faith, who for the joy that was set before him endured the cross, despising shame, and hath sat down at the right hand of the throne of God." (Hebrews 12:2).
Friend, begin your spiritual search in the right place. Come to Jesus Christ and put your faith in Him. Take your direction from God's Word, the Bible. Jesus has died for your sins and mine. Then He rose from the dead. Come to Him now in repentance and faith. God bless you.
ENDNOTE
1. Thought expressed by Leonard Ravenhill.
REFERENCE
Scripture taken from the American Standard Version. 1901.
Tracts By Shawn Stevens